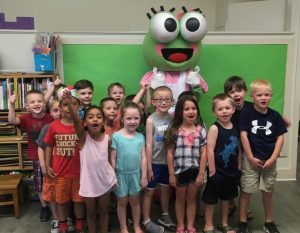 The Lewistown Presbyterian Church Preschool offers a well-rounded curriculum to children of our church family and community. Our preschool program has established a highly-respected reputation in the field of early education through the dedication of our experienced teachers, Mrs. Sherri Powell and Mrs. Ginny Westover. While incorporating the kindergarten standards of the Mifflin County School District into our program, our teachers and students work together toward building a strong educational foundation. In preparation for kindergarten, preschool takes on a more structured approach as compared to nursery school. Preschool students focus on the development of fine motor skills involving drawing, cutting, and gluing. Having learned good social skills in nursery school, preschool students continue to improve these skills through the use of dramatic play with other children. As the year continues, children will move on to name writing, number and letter recognition, phonetic awareness, and simple mathematical concepts. Preschool students are given opportunities for field trips to places such as the Mifflin County Library, United Fire Company, and the Ice Festival. A visit from Santa and perhaps a pet or two, vision testing by the Blind Association, and a dental presentation add more facets to our program at Lewistown Presbyterian Church. Children attend chapel time each month with our pastor, Rev. Jim Thomas. At year's end, children have the occasion to take a bus ride to visit a Mifflin County kindergarten classroom. Finally, graduation will be held for preschoolers as they have prepared for kindergarten.
Our preschool students are able to utilize special services provided free of charge through the Tuscarora Intermediate Unit. An example of this is weekly speech and language services. Preschool classes are held on Mondays, Wednesdays, and Fridays with separate sessions being held each morning and afternoon.
Please consider joining our school/church family!
---
Click Here to Download Registration form for 2018-2019
Please note that our AM Preschool class is filled. We have spaces available in the PM Preschool (12:15-2:30 PM).

Click Here to Download Our Parents Handbook
---
Our church family provides partial scholarships to families in need of financial assistance. More information is available on the registration form. Proof of need is part of this application process….