BIBLE STUDY AND FELLOWSHIP
SUNDAY MORNING STUDY
Sunday morning at 9:00 AM in the church parlor. This study is led by Pat Brown. The study is "Ten Women of the Bible." You are welcome to join them!
TUESDAY EVENING STUDY
Are you hungry for more of God's Word? Come to the third floor Tuesday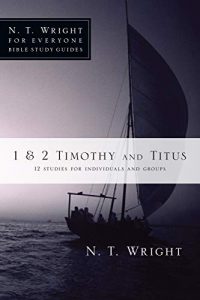 night at 6:30 PM for the study by N.T. Wright on 1 & 2 Timothy and Titus. Just as Timothy and Titus needed help to lead their young churches well in the midst of powerful cultural forces, we need guidance for correct leading and living in our own context. These studies on Paul's letters point us in the right direction. Thoughtful questions, prayer suggestions, and useful background and cultural information will guide us more deeply into God's Word.