The Lewistown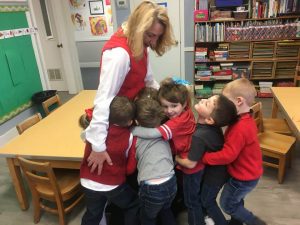 Presbyterian Church 3's program offers a well-rounded curriculum to children of our church family and community. For many children, 3's is their first experience with socialization and independence. These skills are essential for success in Pre-K and kindergarten.
3's students are taught to use appropriate social skills such as patience, good manners, sharing and taking turns.
Our 3's students are able to utilize special services provided free of charge through the Tuscarora Intermediate Unit. An example of these services is weekly speech therapy. Additionally, children are instructed in name recognition, coloring, and the use of scissors and glue. Each day includes circle time, free play, snack time, group art activities, and ends with an additional circle time for songs, stories, and games.
The 3's program is held on Tuesday and Thursday during the morning from 9 AM – 11 AM or in the afternoon from 12:00 PM – 2:00 PM.
Lewistown Presbyterian Church takes pride in our well-established and highly-regarded 3's program.
Please consider joining our school/church family!